Search engine optimization (SEO) is the process of optimizing your web pages so that they rank higher in search engine results. It involves using specific words and phrases in your text to make sure that when people do a search online, your webpage comes up first. The goal is to increase traffic to your site.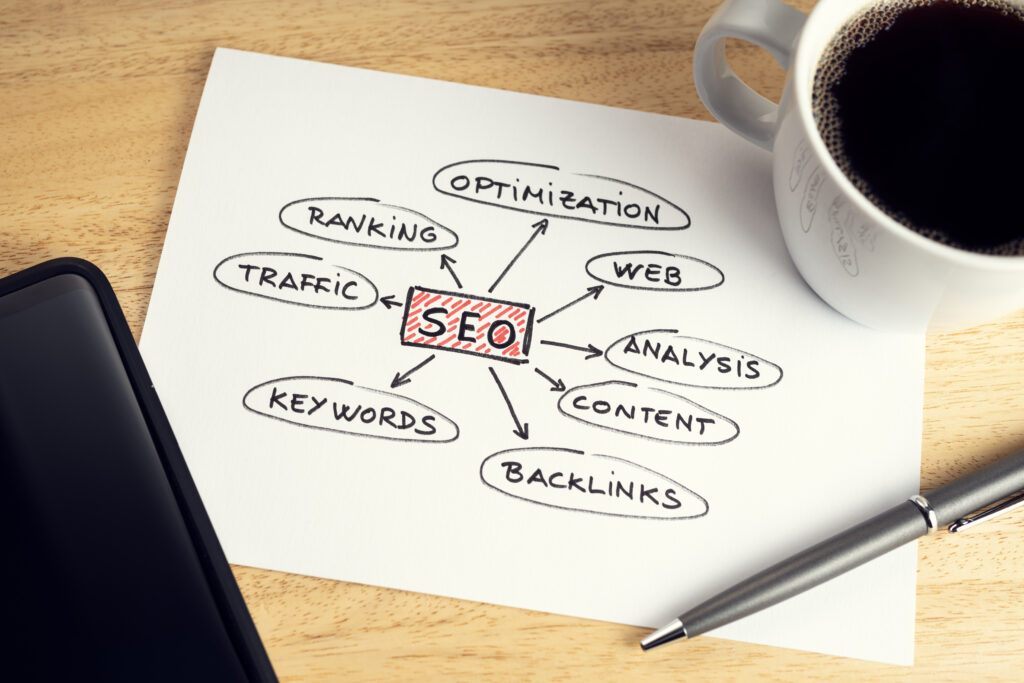 The Difference Between On-Page and Off-Page SEO
Now that we've covered the SEO basics, let's dive into the definitions of on-page and off-page SEO.
What Is On-Page SEO?
On-page SEO is about making sure that your site is optimized for search engines. This includes things like optimizing titles and descriptions, ensuring that your images are properly sized, and using keywords throughout your content.
What Is Off-Page SEO?
Off-page SEO is any activity that takes place outside of your own website. It involves activities like building high-quality content on other websites, getting people to link to your site, and creating authoritative profiles on social media platforms.
How to Optimize an SEO Website?
On-page optimization is a process of optimizing a web page to increase search engine rankings. This is done by making changes to the HTML, text, and other content on the webpage to improve its relevance to specific keywords. On-page optimization is also called "on-site optimization" or "on-page SEO".
Off-Page SEO Optimization refers to all of the work that you do outside of your website in order to get more visitors and convert them into customers.
On-page optimizations usually affect search engine rankings. They are the more visible aspects of SEO and include things like how relevant your website is to keywords and how well-optimized it is for mobile devices. On-page optimizations can be either technical or nontechnical in nature.
Technical on-page optimization includes optimizing HTML code, server headers, CSS, and JavaScript files all while including meta tags and other important information. Nontechnical on-page optimization includes things such as ad campaigns, social media marketing, user engagement, and rankings on search engines.
On-page optimization is a process that includes overall website optimization as well as on-site optimizations that make the specific website more relevant to keywords. This can be done by addressing issues such as meta tags, server headers, HTML coding, and CSS coding.
What is an SEO-Optimized Article?
The term SEO comes from the acronym for Search Engine Optimization which refers to the process of optimizing web pages so that they rank higher on search engine results pages. This is done by making sure that your articles are written well, using keywords where appropriate, and ensuring that they are linked to or from other websites.
How is it Possible to Produce High-Quality Articles that get Good Results?
The first step is to understand how search engine algorithms work. There are many factors involved in determining which pages rank higher than others. Some of these include the keywords used in the page title, meta description, URL, and body text. In addition, the quality of backlinks pointing to your site is important.
Looking for an expert content creator?
Contact us so we can help you rank on Search Engines.
Content Prioritization
In order to write an article that is both SEO-friendly and user-friendly, the subject needs to first be clear. It is essential to think about what keywords users are most likely to use to get your type of information. The article's semantic field will then be constructed around these keywords. The introduction should be precise and engaging. This offers a good presentation of all the content that will be covered in the rest of the post. After that, it is very important that you create a structure that will help readers navigate through the post.
How to Increase your Website SEO?
In order to optimize your site for search engines, you must first know how to write good articles. This includes using keywords appropriately throughout the text. You should also use headings and subheadings to organize the text. Finally, you should include links to other relevant pages on your site.
The use of keywords for an SEO-optimized article
Keywords are used to help search engines understand your content. They should be relevant to the topic of your page and appear naturally within the body of your text. You can include up to 30 words in the title tag and 150 words in the description. Use your main keyword in these places, but don't overdo it. Try not to repeat the same word too many times.
The Impact of Quality Content on the SEO of an Article and a Website
Quality content is essential for any website. It helps to improve your rankings in Google and other search engines. In addition, it will help to increase traffic to your site. There are many ways to create high-quality content. You can write about topics that interest you, find relevant images and videos, and use social media to share your posts.
Why add SEO Articles to a Website?
There are many reasons why adding SEO articles to a website is beneficial. First, it helps increase the visibility of your site on search engine result pages. Second, it allows visitors to find information quickly and easily. Third, it increases the likelihood that your site will appear in the top positions of search results. Fourth, it makes it easier for potential customers to find your site. Fifth, it gives you the opportunity to build trust among your audience. Finally, it improves the overall user experience.
Reasons Why Your Business Absolutely Needs SEO
1. The reason your business absolutely needs SEO is that organic search is most often the primary source of website traffic. This is especially true if you want to rank on page 1 of Google.
2. Search engine optimization (SEO) builds trust and credibility. It helps your business get found online. People who search for products and services on Google will find your website if it ranks high in the results. This means that when people type keywords related to your product or service into Google, your site comes up first.
3. The first step in any business is to find out where your customers live. This is known as local search optimization. It helps businesses to reach potential customers who are searching for products and services close to home.
6. The buying cycle is broken down into four stages: awareness, interest, consideration, and purchase. Each stage represents a specific time period during which consumers are exposed to your brand. Awareness refers to when people first hear about your business. Interest occurs when they start thinking about making a purchase. Consideration happens when they actually start researching your product or service. And finally, purchase occurs when they make a decision to buy your product or service.
Source: SEJ
Job Opportunities
SEO (Search Engine Optimization) is a major tool of digital marketing. The individual ought to have great logical and specialized abilities to begin a vocation in SEO. SEO expert centers on the web marketing system to expand the internet-based item for the organization.
SEO professionals focus on making successful ways of advancing the item, administration, or content. A vocation in SEO has many choices accessible on the lookout. The individual can take care of business in the association or it is additionally accessible to independent positions (Freelancing). One can join an SEO office, or digital marketing as an SEO specialist to begin a vocation in SEO. The new businesses and other laid-out organizations are great to get the experience.
Job Opportunities in Karachi
Karachi is the financial hub of Pakistan. Either Conventional or Digital Marketing, Karachi has always been a major target for business owners.
The Future Scope of Digital Marketing in Karachi has a rising development rate step by step. Digital marketing industry measurements propose that in the approaching years the interest in digital marketing professionals is rising and the confirmation for digital market preparation is on the top.
SEO Job Salary in Karachi
SEO jobs are in high demand and pay well. They are also one of the most popular job opportunities for people who want to work remotely. There is a wide range of SEO jobs available, from entry-level to senior-level. Entry-level positions usually start at $30,000 per year while senior-level positions can pay up to $200,000 per year.
Many entry-level positions require less than a college degree and can be found via online job boards. Some of these include:
 Search engine marketing manager
 Webmaster
 Search marketing coordinator
 Content writer etc.
SEO Executive Jobs in Karachi
The SEO executive job is a high-level position that requires strategic thinking and analytical skills. The SEO executives in Karachi are in charge of the company's marketing strategy and will be responsible for executing it. SEO executives in Karachi are usually tasked with generating larger amounts of traffic to their client's websites through organic search engine optimization, which includes social media marketing, link building, keyword research, content creation, and more.
The SEO Executive carries out the following duties:
 Strategic thinking, analysis, and problem-solving skills
 Developing the company's SEO strategy and managing its execution.
 Optimize for profitability through keyword research, content creation, link building, etc.
 Execute high-level search engine marketing strategies for both organic and paid search including social media marketing on a large scale.
 Collaborate with other teams to maximize the effectiveness of campaigns across channels such as social media and email marketing.
 Innovate with other departments to create cutting-edge tools for use in the business.
 Develop, implement, and optimize an effective content creation process.
 Participate in the planning and execution of the company's digital marketing budget.
 Create effective partnerships with agencies, social media companies, etc.
You can easily get search engine optimization jobs through Fiverr in Pakistan. Freelancer SEO jobs in Karachi are one of the most lucrative jobs these days, and if you can get good it at, then sky is the limit.
Most Common Institutes that Provide SEO training in Karachi
SEO training institute in Karachi is a one-stop solution for all your SEO needs. They provide you with the best training, the most comprehensive courses, and the latest techniques. to make your website SEO ready. A perfect SEO training institute in Karachi, they offer hands-on practical classes along with theoretical lectures which will help you learn and master the skill of search engine optimization. Their trainers are top-notch professionals who have years of experience in the field.
Some of the best institutes offering SEO training in Karachi are:
EUREKA DIGITAL MARKETING ACADEMY
OMNI ACADEMY & CONSULTING
DIGITAL MINDS
ENABLERS
How much do SEO Certifications Cost?
The expense to get an SEO certificate is somewhere in the range of $89 and $1495. Many institutes are offering various sorts of courses and every one of them sets its own estimating. The table underneath looks at the expense of the most well-known SEO certification.
How Much time does it take to Learn SEO?
It requires 1-3 months to get familiar with the fundamentals of SEO. You can perceive the nuts and bolts of search engine optimization and get educated in somewhere around 90 days, be that as it may, the further developed ideas can take somewhere in the range of 6 months to a year and a half. You can consume and gain information day by day from specialists.
Search engine optimization (SEO) is the process of optimizing your web pages so that they rank higher in search engine results. It involves using specific words and phrases in your text to make sure that when people do a search online, your webpage comes up first. The goal is to increase traffic to your site.
Looking for experts to increase your SEO scores and Rank on Google Page 1?